Information for international players
Welcome to DJK Holzbüttgen Floorball! Want to know more about us? Here you go!
Holzbüttgen is a district of Kaarst, just a few kilometers away from the beautiful city of Düsseldorf in the west of Germany.
Information (in English) about Düsseldorf: www.duesseldorf-tourismus.de
Düsseldorf is always top-ranked in "The greatest cities to live" competitions: www.telegraph.co.uk
Information on our home town Kaarst: https://en.wikipedia.org/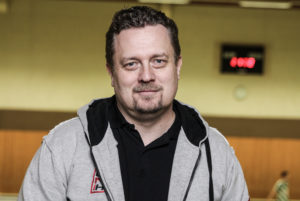 Itse saavuin Saksaan vuonna 2008 työn perässä saksalaisen vaimon ja kolmen puolisuomalaisen lapsen kanssa. Harrastepohjalta aloin pelaamaan sitten salibandya kun löytyi seura jossa hyvä ja kannustava henki. Nykyisin enemmän organisaatio-puolella mukana, mutta vielä kakkos-joukkueen mukana aktiivisesti pelaamassa. 
Kimmo Vallema (FIN)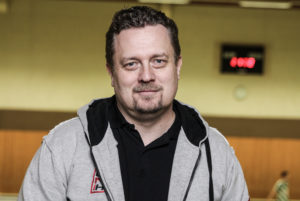 I arrived to Germany in 2008 with my German wife and three half-Finnish half-German children following a new job-opportunity. What started as a nice hobby to improve my fitness quickly turned something much more than that as I found DJK Holzbüttgen. A club with an amazing feel about it, active people and supportive members have just made it so easy to feel home. Being of "a little older generation", I am more involved these days in the organisational aspects of the competition-side but I've also been known to participate in the league-games with our second team.
Kimmo Vallema (FIN)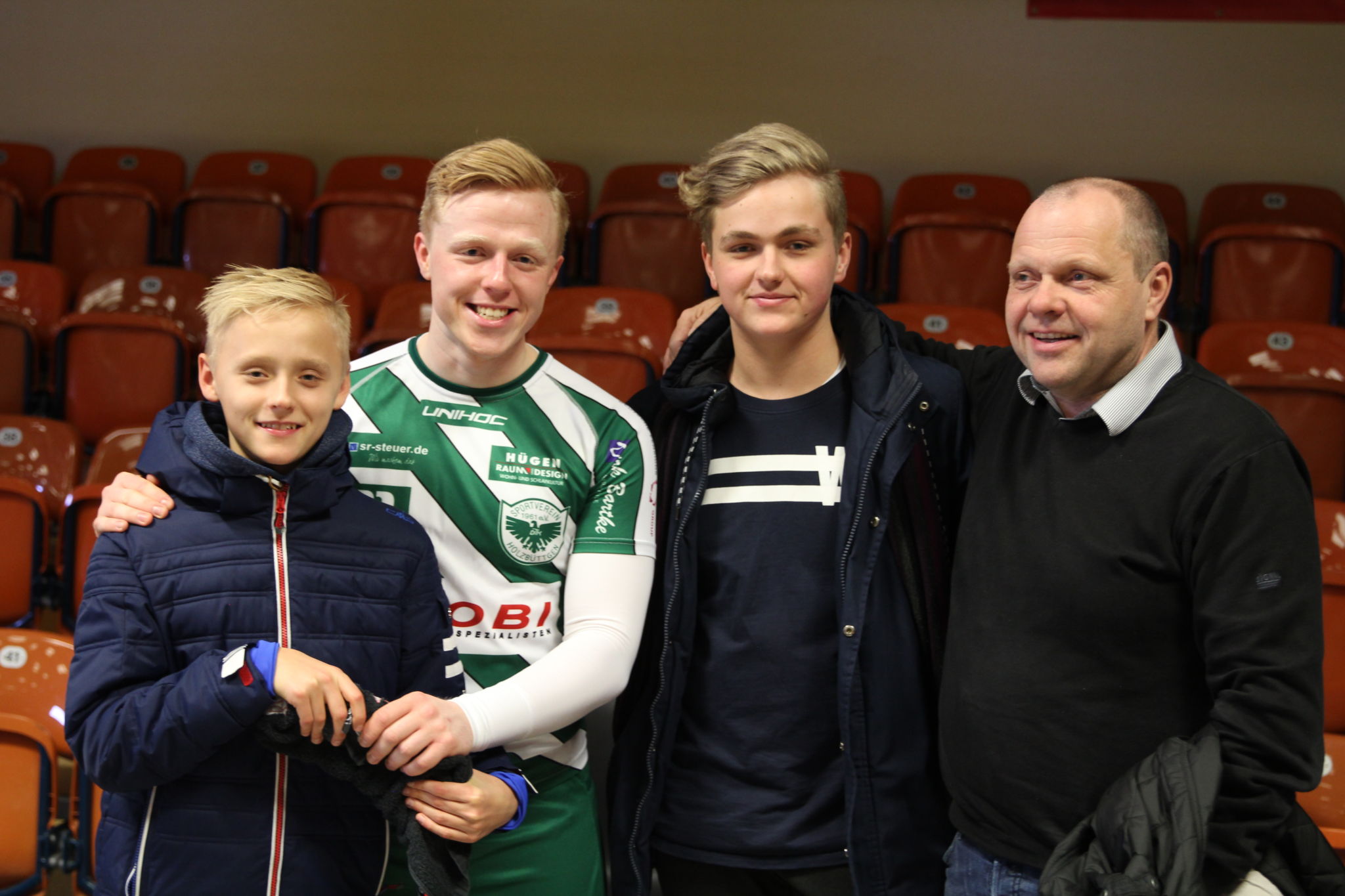 Kevin Linnerup Kjeldsen. 20 år og dansk. Begyndte i august 2016 at arbejde hos BoConcept i Düsseldorf-Gerresheim. Jeg har spillet floorball siden jeg var 12 år gammel. Planen er i første omgang den ene sæson, men som man her siger: "Én gang Holzbüttgen'er, altid Holzbüttgen'er".
Kevin Linnerup (DEN)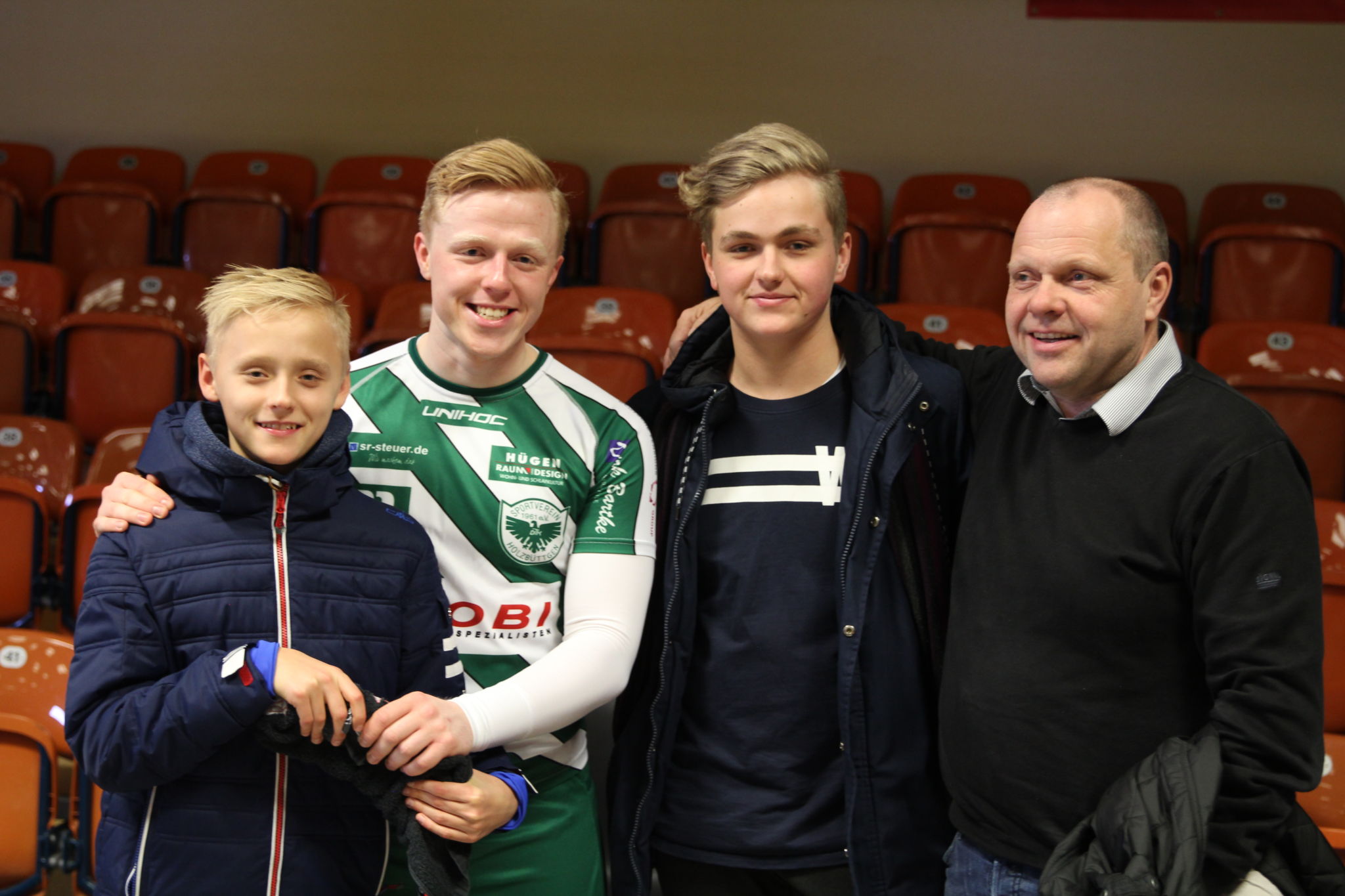 Kevin Linnerup Kjeldsen. 20 years old and Danish. August 2016 I started working by BoConcept in Düsseldorf-Vennhausen. I have been playing since I was 12 years old. The plan is one season, but as you say: "Once a Holzbüttgen'er, always a Holzbüttgen'er".
Kevin Linnerup (DEN)
Hej! Jag heter John Sacrédeus och tränade med DJK Holzbüttgen ett halvår (2014) under min tid för språkstudier i Düsseldorf. Från första stund blev jag väl omhändertagen och upplevde en stark känsla av kamratskap i laget. Några från laget har hälsat på mig i Sverige sedan dess och jag har även åkt till Tyskland för att spela en turnering med laget, om en stark lagkänsla är viktigt är DJK Holzbüttgen något för dig! Kvalitén är bra och träningarna utvecklande, även om jag spelat innebandy hela mitt liv så kände jag att jag åkte hem till Sverige som en bättre spelare. Testa, du kommer inte bli besviken! (Muskel-John )
John Sacrédeus (SWE)
Hi! My name is John Sacrédeus and I trained with DJK Holzbüttgen for half a year (2014) during my time for language studies in Düsseldorf. From the first moment I felt welcome to the club and experienced a great fellowship between the players. Since my time in Germany some of the players have visited me in Sweden and I have been going back aswell to play a turnement with the team. If a great team spirit is something you value, then DJK Holzbüttgen is something for you! The quality is good and the trainings are challenging, even though I have been playing floorball my entire life I felt that when I arrived back in Sweden I did so as a better player. Try Holzbüttgen, you won't be dissappainted!

John Sacrédeus (SWE)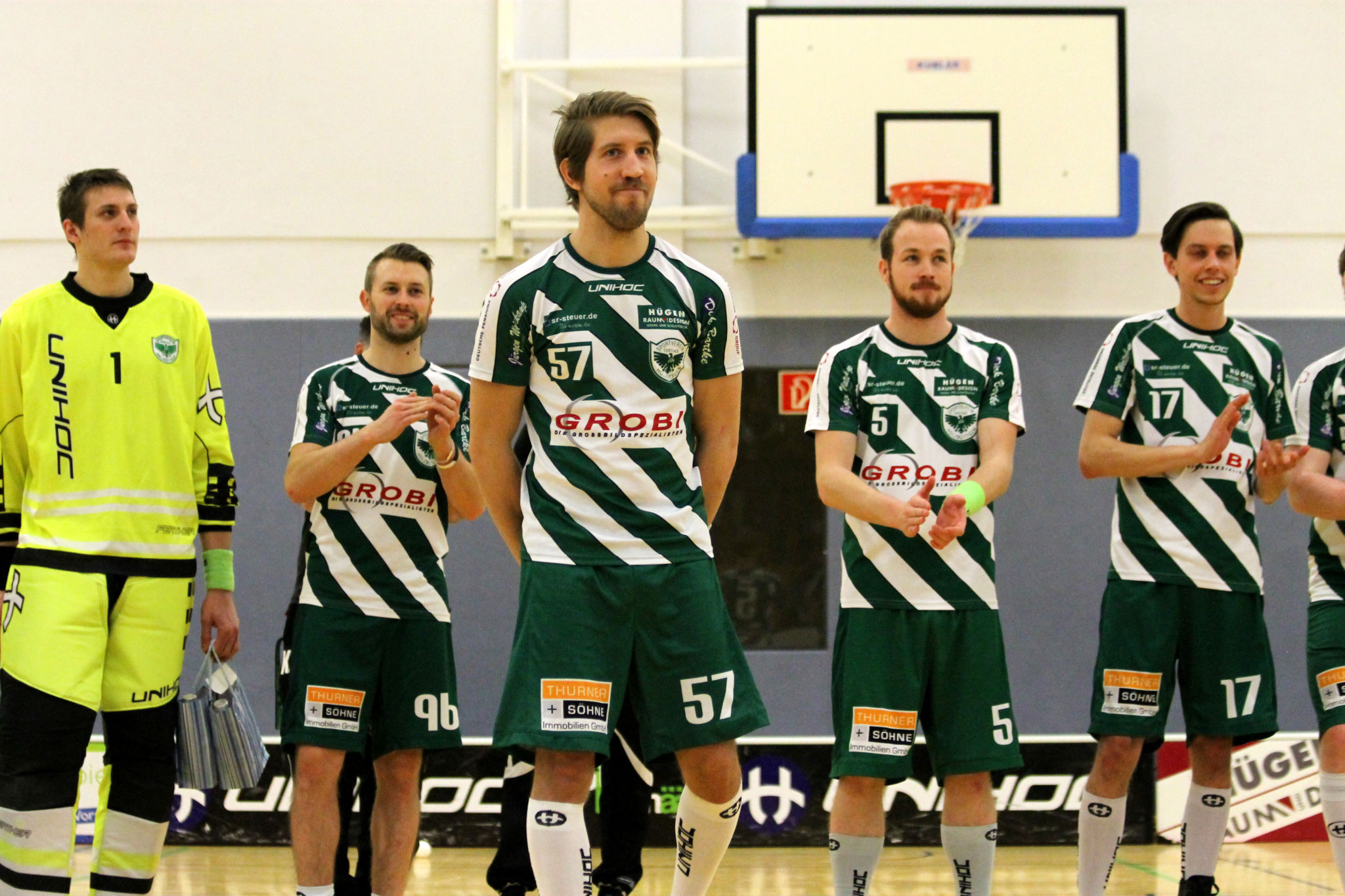 Jag bodde i Düsseldorf i ca tre månader innan jul 2016 på grund av att det ingår knappt en hel termin i utlandet genom min utbildning på min högskola i Göteborg. Jag spelade då i Allsvenskan och sökte kontakt med DJK Holzbüttgen eftersom det är innebandyföreningen som ligger närmast Düsseldorf. Jag fick ett underbart bemötande av både ansvariga kring och i herrlaget och detta faktum och deras öppenhet hjälpte mig väldigt mycket att komma in i språket och lära mig det på bästa sätt.
Supportrarna som kommer på matcherna är helgalna och det går knappt att kommunicera på bänken när man vilar mellan bytena på grund av ljudvolymen. Det finns vissa lag i ens idrottsliga historia som man kommer ihåg och som hjärtat klappar lite extra för. DJK Holzbüttgen är ett av dem.
Markus Anderberg (SWE)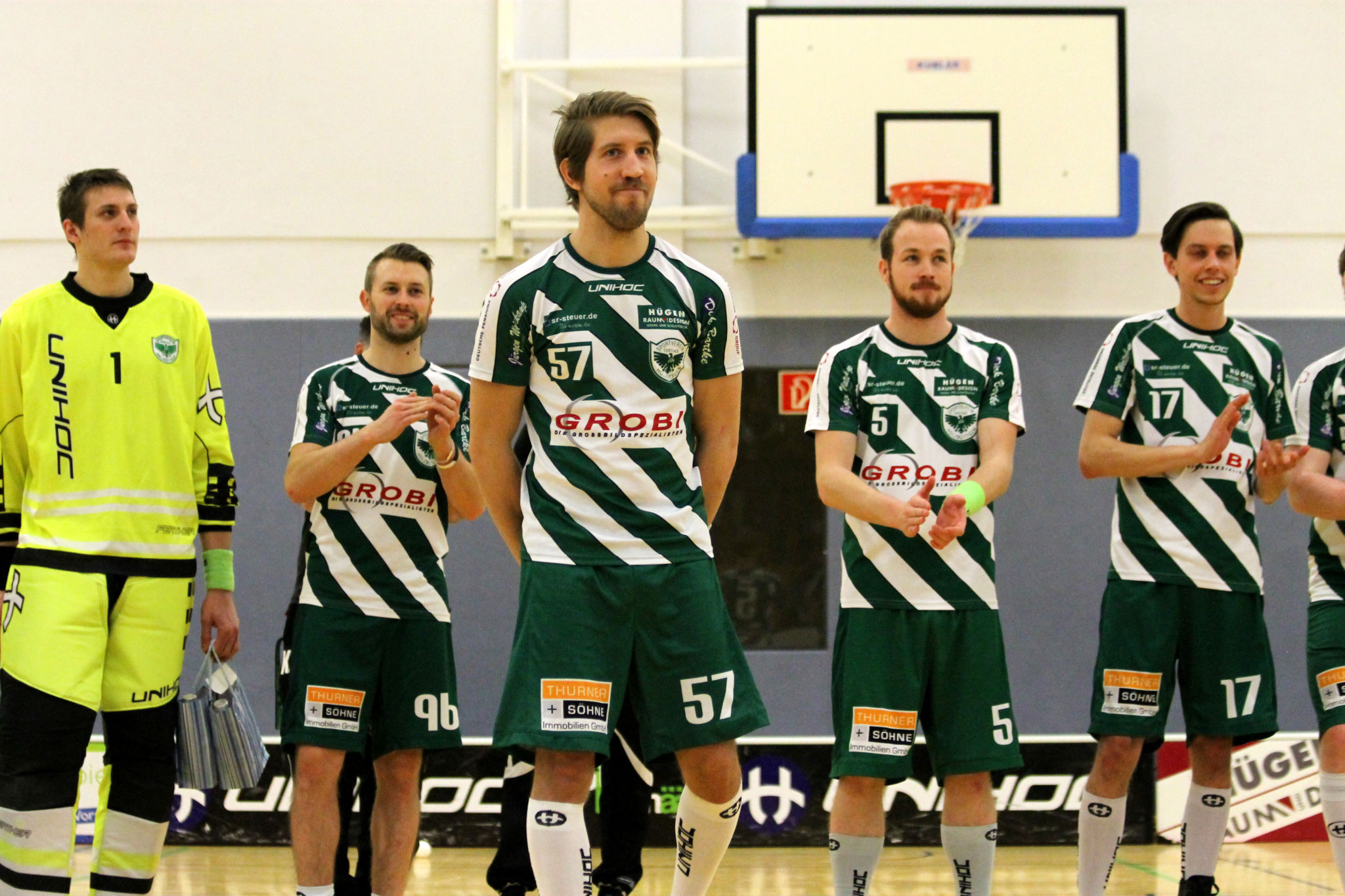 I was a resident in Düsseldorf for about three months before christmas 2016, because the visit is part of my education at my university in Gothenburg Sweden. I was at that time playing in the second highest floorball league in Sweden and got in touch with DJK Holzbüttgen just because it was the club closest to Düsseldorf. I had a wonderful reception from the people both around and in the mens team and their openness helped me to learn the german language in a proper way. The fans who are visiting the games are totally crazy and it is almost impossible to communicate on the bench while resting between changes because of the soundvolume from the fans. There are some clubs in ones life one remembers and that has a special place in ones heart. DJK Holzbüttgen is one of them.
Markus Anderberg (SWE)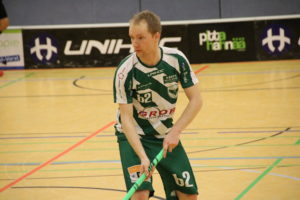 Tulin Saksaan Düsseldorfiin alkukesällä 2015 ilman suurempia suunnitelmia haistelemaan mahdollisuuksia työntekoon. Aloitin kielikurssilla ja kävin yliopiston sählykerhossa, josta tie vei Holzbüttgeniin. Seurassa otettiin ulkomaalainen innolla vastaan ja urheilun avulla sain helposti kavereita, sekä pääsin sisään paikalliseen kulttuuriin. Seuran avulla ja yhteisön kontakteilla sain myös töitä ja jäin sitten tänne.
Ilari Suuronen (FIN)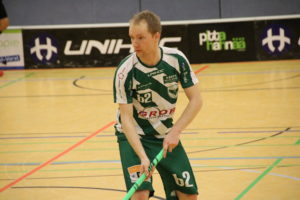 I came to Düsseldorf, Germany, in early summer 2015 without bigger plans to search opportunities to work. I started in a language course and played 'unihockey' at the University in Düsseldorf before I went to Holzbüttgen. The club was friendly and I felt myself very welcomed. Sport gave me many good friends and easy access to German culture. The club helped me to look for a job and I found one with the help of the community. So I ended up staying here.
Ilari Suuronen (FIN)
Tulin Saksaan työtehtävieni vuoksi 2016 elokuussa. Vanhan salibandytaustani vuoksi etsin itselleni ja pojalleni paikkaa pelata salibandya ja sellainen löytyi pienten mutkien kautta DJK Holzbüttgenistä. Seurassa on erinomainen toinen toisiaan kannustava tunnelma ja määrätietoinen työ junioreiden kehittämiseksi. Tällaisen ikämiehen >40v on mukava pelailla ja opastaa seurassa. Pelailen kakkosjoukkueessa sekatyömiehenä eli paikka vaihtuu tilanteen mukaan av:tä, yv:tä, puolustajaa, hyökkääjää jne. saa pelata niin paljon kuin jaksaa.
Toni Lindholm (FIN)
I arrived to Germany because of my work in August 2016. I had played many years floorball in Finland and also in Turkey so I started to look a team for me and my son. Finally I found a good team with an excellent attitude to support each other and they make here a very good junior team work as well. Club is young but it is developing with very solid and firm steps towards to be a good path for a young talent to be a good candidate in national team as well.
Personally I play still actively with second team in Regional League games and I do still enjoy to play as >40yrs old player. If you are located near Düsseldorf-Neuss area I can only recommend you this club as a warm floorball family.
Toni Lindholm (FIN)
Interview with new team member Simon Lange/ Neuzugang Simon Lange im Interview Several new team members joined the  team in its first year in the...